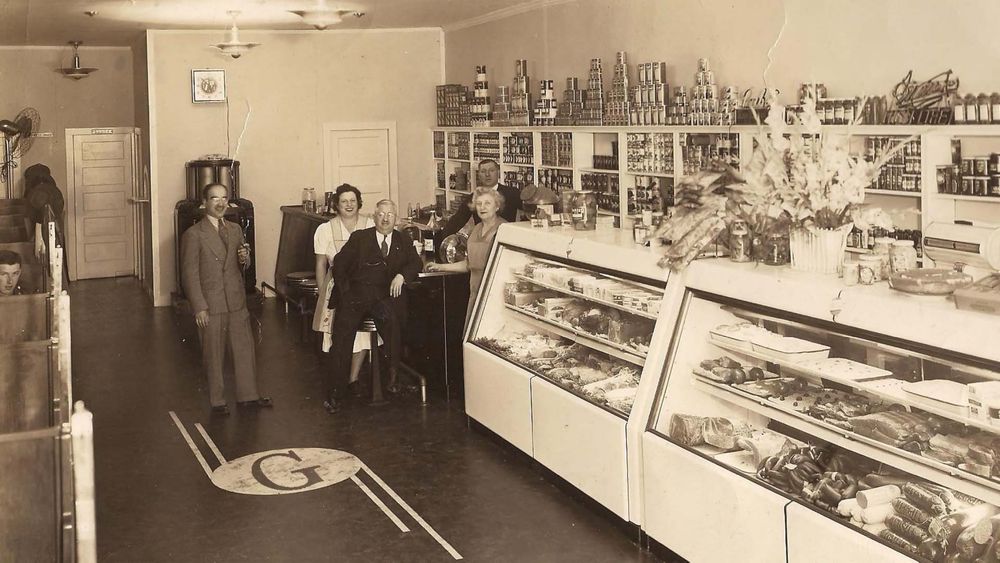 Origins
Harold "Groucho" Miller moved to Columbia, South Carolina in 1941 after his childhood in a Philadelphia orphanage. He came to town with a handful of original recipes for potato salad, coleslaw, and dressings for both salads and sandwiches. He set out to work opening his first restaurant based on these recipes. To this day, we honor and repeat his founding philosophy: "Quality is the most important ingredient in a sandwich."
Harold's son, Ivan Miller, recalled in a 1986 interview with the Columbia Record how "...when Pop first opened this store, Columbia was a small town, and everything had a label. Here he [Harold] was this really crazy kind of guy. Always joking, always had a big cigar and a mustache… He looked like Groucho Marx, he talked like Groucho Marx, and to Columbia, he was Groucho Marx. So that is how the name came about." Ivan later went on to be the second-generation proprietor of Groucho's Deli.
Groucho's Deli abides by the same tradition with each generation: we serve only the highest quality products and ingredients. In turn, Groucho's® Deli sits at legendary status for 80+ years of excellence.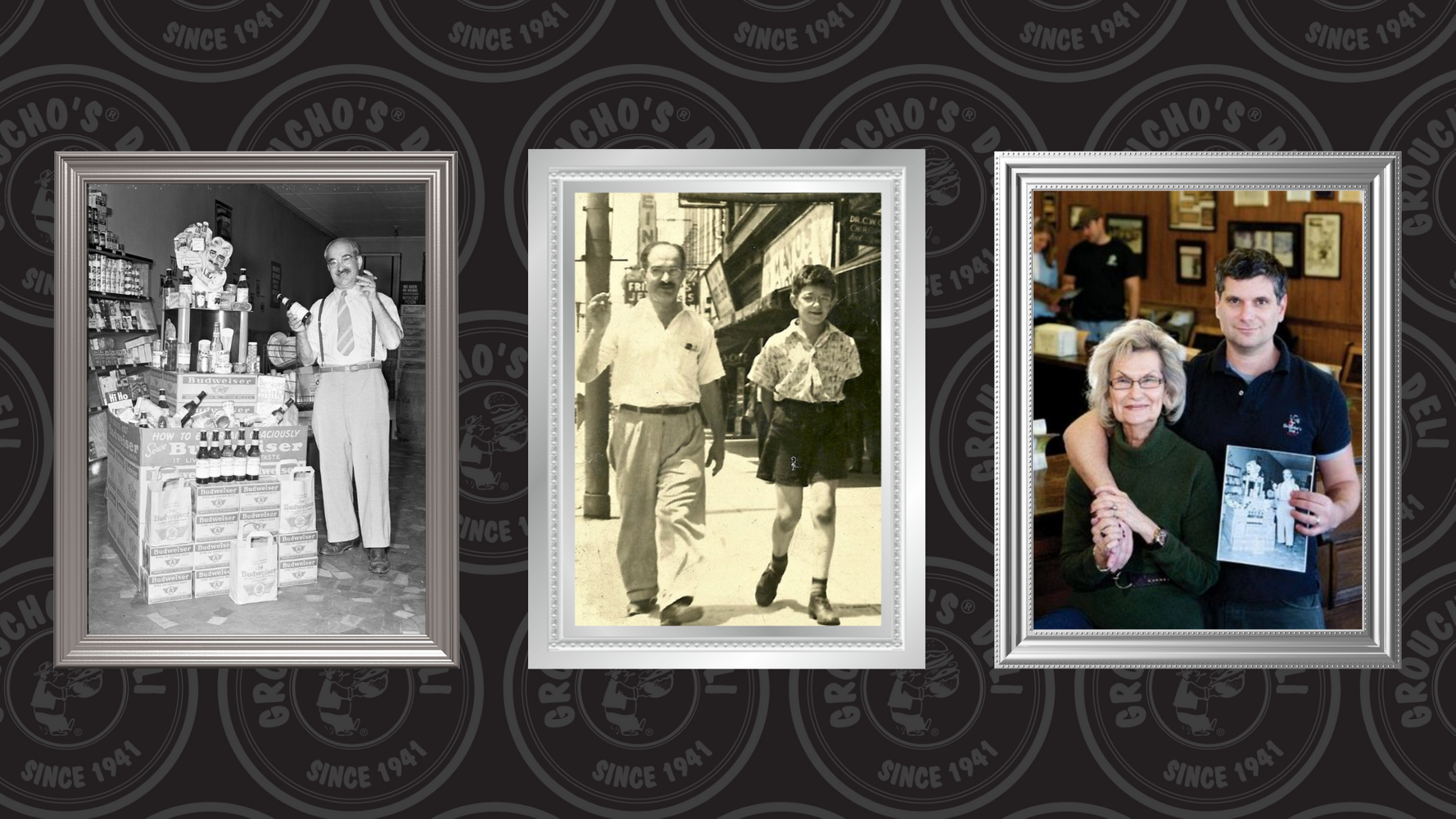 Tradition Since 1941
From the 1940s through the 1960s, Groucho's® Deli established its brand and reputation by serving high-quality meats and cheeses, famous sandwich dressings, and their original potato salad and coleslaw. Formula 45™ sauce was perfected in 1945. They also sold imported teas, coffees, and exotic delicacies in a retail shop at the front of the original restaurant. Seating was limited to start.
Groucho's began serving its innovative "Dipper"™ style subs with original sauces and large salads in the 1960s. The Apollo Dipper™ was named after the likeness of the Apollo space capsule and advertised as landing in a cup of 45 Sauce. The seating area became larger once the retail shop was phased out in the 1980s.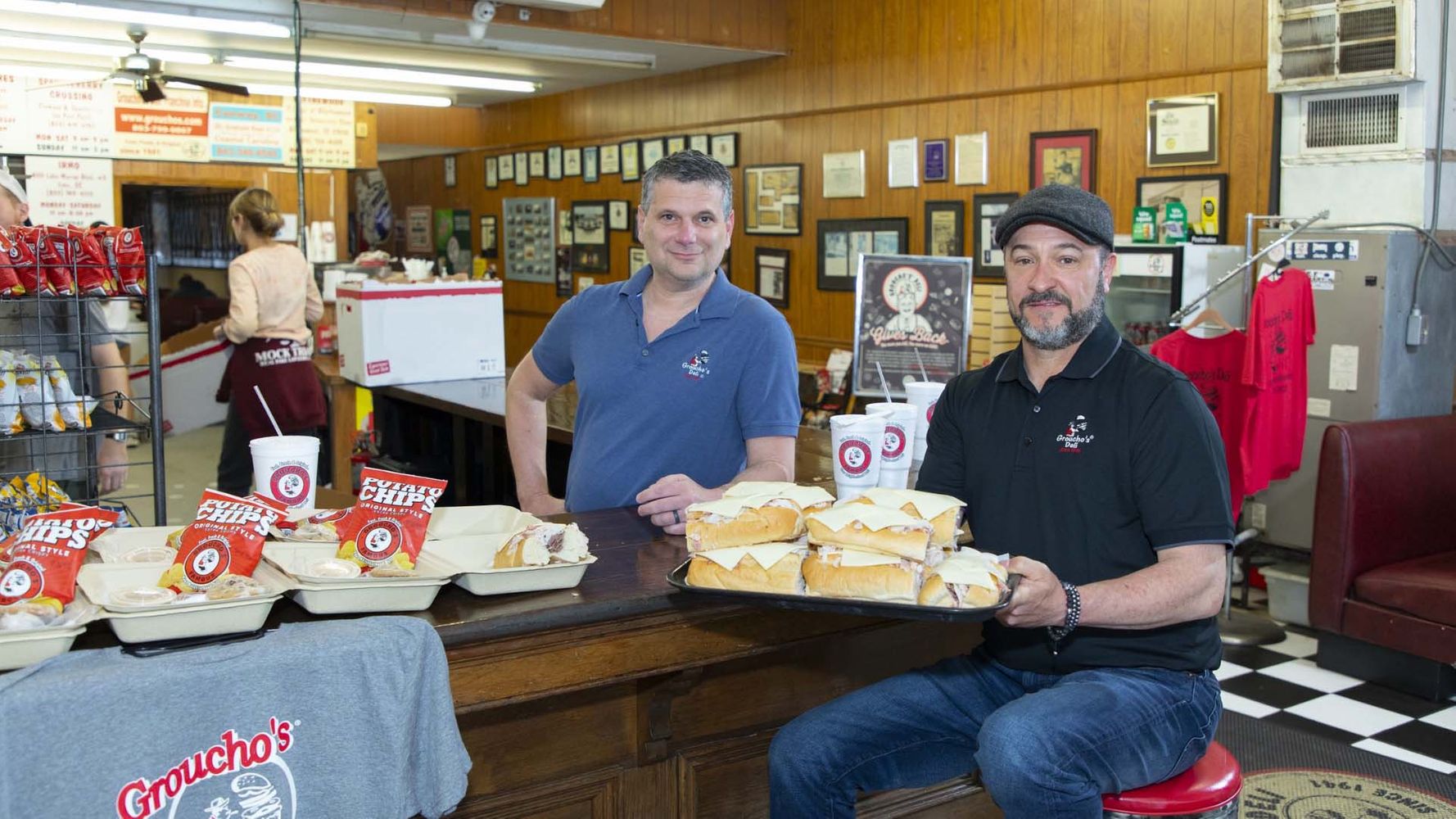 Third Generation: 2000-Present
Naturally, Groucho's Deli deserved to be shared with the world. Before considering additional locations, Groucho's had to ensure that the quality products, coveted recipes, and customer experience would be consistent. Through exclusive distributor partnerships and extensive on-site training, Groucho's owner/operators can execute the same standards year after year.
Groucho's started franchising in 2000 with its first franchise in Lexington, South Carolina. Groucho's® has grown into multiple cities across South Carolina, North Carolina, and Georgia. Each Groucho's location is empowered to be "Your Neighborhood Deli." Our guest experience and each location should be location-specific to their community.
Groucho's Original Deli in Columbia, South Carolina is still owned and operated by the Miller family today.
(Pictured: Groucho's LTD CEO Bruce Miller and Groucho's President Deric Rosenbaum.)