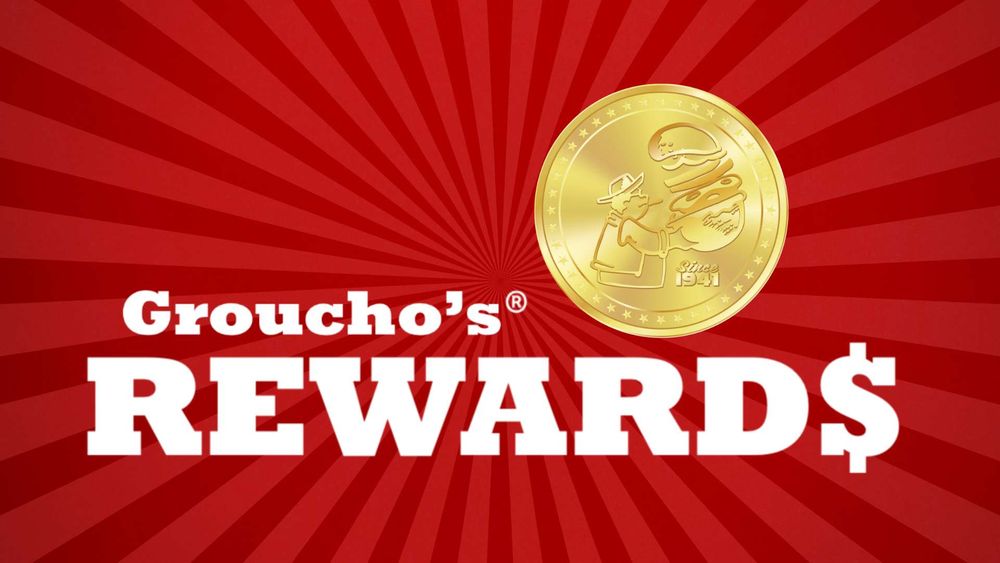 At Groucho's® Deli, your loyalty adds up! The Groucho's® Deli REWARD$ Program is our way of expressing gratitude to our loyal customers. When you dine with us, you can earn REWARD$ points to redeem at any Groucho's® Deli location.
Program Details
Earn 1 point for every $1 spent ($.06* per point)

Use points as credit towards your next Groucho's Deli visit!
Get Started
Download & Register the Groucho's Deli Mobile App. Creating an account will automatically register you for the program!
OR Enter your phone number at checkout when visiting any Groucho's Deli location for dine-in.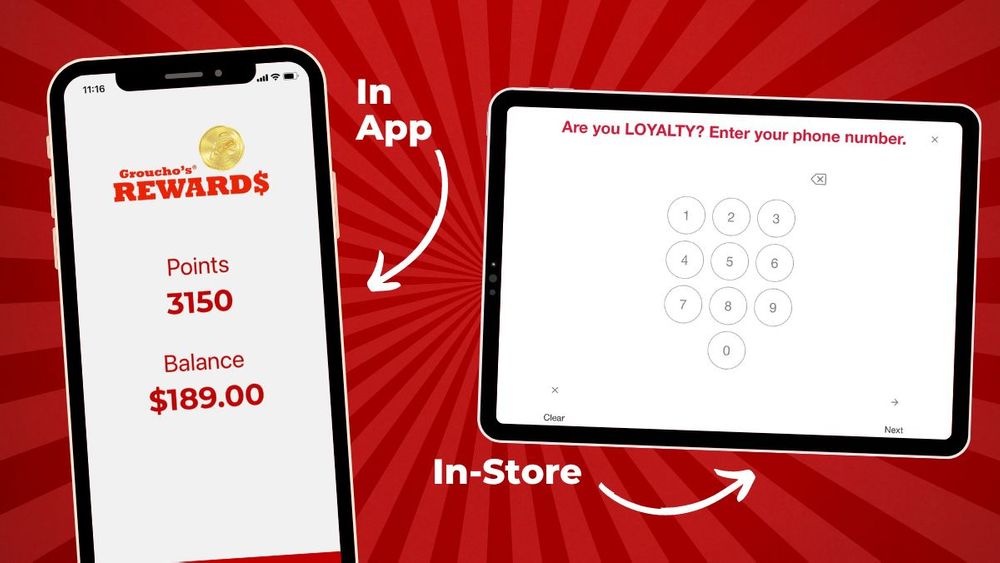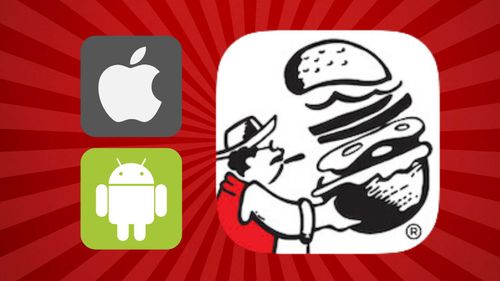 Track Your Groucho's Deli REWARD$!
Loyal Groucho's Deli customers can earn, track, and use Groucho's Deli REWARD$ by downloading the Groucho's Deli app from the iOS or Google Play stores.
Missing Points?
Groucho's Deli REWARD$ Program customers must download the Groucho's Deli mobile app to track their points. Once downloaded and registered, customers can click on the 'REWARDS' section on their app to reveal accrued points. If you have made purchases and your points are not showing, you may need to sync your account. Please follow these steps:
Request Missing Points
Only Groucho's Deli customers that have previously signed up for Groucho's REWARD$ Program (GRP) and provided their phone number are qualified to apply for missing reward points. For properly submitted claims, missing points will be issued to your Groucho's Reward account. You will be notified via email once the transaction is approved. Groucho's Franchise Systems, its affiliates, agents, representatives, and trusted service providers are not responsible for lost, stolen, misdirected, damaged, or illegible claims.
Furthermore, if Groucho's determines your claim to be fraudulent in nature, your request will be denied and you may be reported to the authorities for fraud.
PLEASE NOTE: REWARD$ POINTS WILL NOT BE ADDED FOR PURCHASES PRIOR TO GRP SIGN UP.
Sync Your Account
Visit www.grouchos.com via a DESKTOP COMPUTER.
Click ORDER NOW from top navigation bar.
Choose a Groucho's Deli location.
'Sign In' to your account using your app credentials.
Click 'Rewards Account' at top of page.
Click 'Enter a rewards account you already have' and enter your registered phone number.
Terms & Conditions Apply
Reward points are not available on third-party orders (Doordash, etc)
Reward points will not be earned for alcohol, taxes, tips, delivery fees, discounts/coupons, or gift card purchases.
Reward points have no cash value and can not be used for tips or change.
Reward points will not be added for purchases prior to sign up.
CAUTION: ATTEMPTS TO DEFRAUD OR UNDERMINE THE LEGITIMATE OPERATION OF THE GROUCHO'S DELI REWARD PROGRAM MAY VIOLATE CIVIL AND CRIMINAL LAWS AND GROUCHO'S MAY SEEK REMEDIES TO THE FULLEST EXTENT UNDER LAW.